!0 years ago, after putting together a list of more than 120 Portuguese bloggers in one place (prt.sc), I thought about how could video be the next big thing after blogs.
So, I started a video channel that was the 'alternative' of prt.sc, a place where we would aggregate video shows about technology, science and communication.
After pitching the concept to @Armando Alves and convincing him that would be a good idea to have regular videos of us online, covering conferences, tech and communication, we soon started doing Alt.Prt.Sc.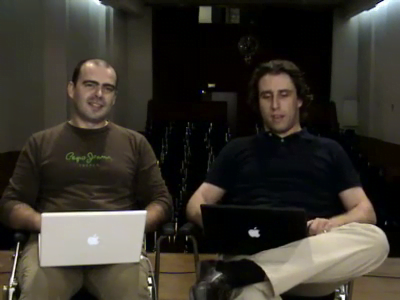 That was 10 years ago. We're all older now, but I've recently relaunched the idea and got back to vlog – we call it now this – with a couple of friends.
Alt.Prt.Sc was before 'youtubers' and 'influencers'. It was a copycat of DiggNation and we run for about 3 seasons of the show. The second season we're asked to feature on Publico.pt, the largest Portuguese online newspaper, as a weekly show (right on the top right of their homepage).
It was amazing and we never thought of actually be on the media, talking about our passions and work. It all gave us a different perspective of being online and allowed us to cover some interesting tech conferences in Portugal. Bottom line, we both enjoyed doing this and we went as far as having live audience seeing us. 
We both moved to doing other things, our videos (that were posted on Vimeo) were lost and only recently I found some very low-res of them. In particular the first ones. They're all here on Youtube. Bare in mind that was 10 years ago 🙂